We offer small group classes led by a certified trainer who will motivate you to perform at your best, regardless of your current fitness level. We offer Functional Fitness WODs and one on one personal training sessions to provide a personalized fitness program for you and your fitness goals. Other class offerings include Yoga and HIIT (high intensity interval training) utilizing lighter weights and body weight movements.
There are no ellipticals,
no smoothie bar,
no mirrors,
………and no excuses!!!
But we DO have results!

So what are you waiting for?
It's time to expect more from your workout!
Functional Fitness is constantly varied functional movements performed at high intensity. All Functional Fitness workouts are based on functional movements, and these movements reflect the best aspects of gymnastics, weightlifting, running, rowing and more. These are the core movements of life. They move the largest loads the longest distances, so they are ideal for maximizing the amount of work done in the shortest time. Intensity is essential for results and is measurable as work divided by time—or power. The more work you do in less time, or the higher the power output, the more intense the effort. By employing a constantly varied approach to training, functional movements and intensity lead to dramatic gains in fitness.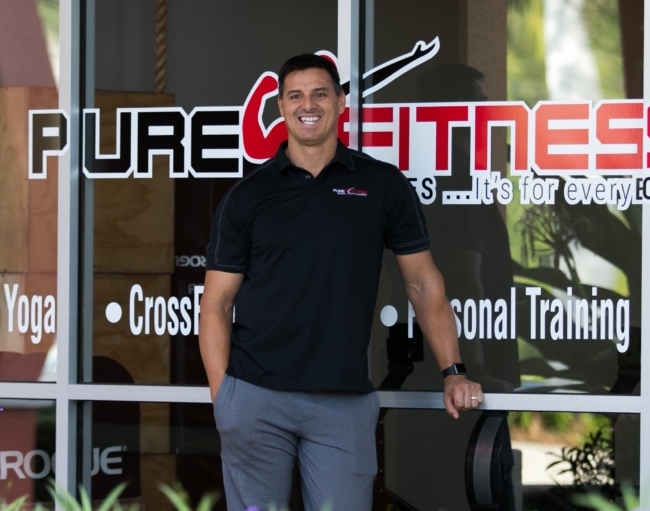 Joey Sandoval was born in Raton, NM. He played basketball in high school and was a McDonald All American nominee, making it down to the final cut. He understands hard work pays off and has learned how to help other people work hard to reach their fitness goals. Joey has worked in the fitness industry for over 16 years. With 16 years of experience, he has seen all types of fitness fads come and go, but it all comes back to hard work. Joey will motivate you to do things you did not think you could do.  He will change your life!
When Joey is not in the gym changing lives, you can find him with his family or on the golf course.

Parker Hansen
I can't say enough good things about Pure Fitness…just go in, do the workouts, and in time you will get into great shape.

Jessica Judd
Super clean Facility! Joey is great, I had back surgery last year and with every work out he either modifies or watches my form to make sure I'm being careful. You'll definitely get a great work out in!

Nicole Marie
I am thankful Joey started Pure Fitness. Perfect size with the right touch of personalization. Clean. Fun classes and great members. Thanks Joey!
40 min AMRAP Row 250m 10 DB Step ups (one DB 50/30) 10 DB Snatch's Run 100m Rest 1:00
Conditioning Every 5 min for 40:00 250m SkiErg 500m BikeErg 250m Row 5 Man Makers
Warm-Up 15 min EMOM Min 1-12/10 Cal Row Min 2-50 Single Jump Rope Min 3-15 V-Ups Conditioning Team of Two 3 Rounds 1:00 Time Cap…
Warm-Up 3 Rounds 3 Inchworms Run 200m Strength Back Squats 10×5 Conditioning Team of Two 5 Rounds (Each) P1-Row 250m P2-Run 200m 15 Front Squats…
Warm-Up 10 min EMOM 7 Burpees Team of Two 30 min AMRAP Row 500m 5 Box Jumps 5 Wall Balls Add 5 Reps every round…

refocus on fitness and gym
5926 Premier Way, Suite #112
Naples, FL 34109
joey@purefitnessnaples.com
M-F: 5:00 – 10:00 4:00 – 6:30
Saturday: 07:00 – 10:00
Sunday: Closed